Alexander Henry: Ghastlier Quilt Kit

fabric and pattern for top and binding measures 62x72 you will need backing fabric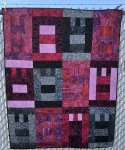 Bauhaus Quilt Kit

pattern and fabric for quilt top and biniding Finished quilt measures approx 48x60" You will need 3 yards of backing.


Bee Grateful Kit

Bee Grateful Kit by Deb Strain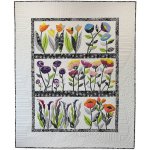 Bliss block of the month Kit
Boro Quilt kit

borders surround a panel for a quick kit 55"x64" you will need 3 1/2 yards backing


Catnip without the cat

54"x63" you will need backing and batting to complete kit


Christmas Critters Ornament Wool Felt Kit

Christmas Critters Ornament Wool Kit includes wool felt, instructions, floss


Covered Bridge Kit
Covered Bridge Wall hanging
Eclectic Elements Market Tote

Includes fabric for outside and lining. You will need batting/stabilizer Tote measures approx 13"x13"x5"


Fabric Chicks-Landscape Elements Kit

Landscape Kits includes fabric, fusible and stabilizers to create a beautiful Emerald Bay Lake Tahoe scene.


Fabric Chicks-Ornament in the Pines

11"x16.5" includes everything you need to complete the project...including the needle!


Fabric Chicks-Wolf

Wolf finished project measures approx 32"x34" Snippet/collage technique with thread painting creates this beautiful finished quilt.


Forest - Multi Light in the Forest Kit

Forest - Multi


Frond Design Studios-Fresh Cut Flowers Quilt Kit

This kit comes with all 6 flower panels! You can make either of the art quilts pictured here with just one kit, or you can pick and choose which flowers you want to add and do your thing! 50x58 Approx.


Fusion Critter Kit

makes a 32x39 size quilt


Geranium Pillow Kit

Kit includes fabric and backing for pillow approx 21"square


Ghastlie Love Quilt Kit
Goat Island Quilt kit

42"x46" focal novelty fabric, featuring goats, go together for a fast quilt you will need 1 1/2 yards backing to complete the quilt


Grandma Catherine's Pin Cushion

Kit includes fabric, wool stuffing and walnut shell fill for 2 cushions.


Hen and Rooster Quilt Kit
Hobo Bag
Let Your Heart Sing

Let Your Heart Sing


Let Your Heart Sing Wool Pillow Kit

Let Your Heart Sing Wool Pillow Kit includes pre-printed fabric, flannel and buttons for embellishment. You will need pearle cotton or floss


Monster's Quilt Kit

quilt measures 39"x39" pattern, fabric for top and binding.


PRE-ORDER Free Spirit Quilt Kit Mad Hatter Tea Party Tula Pink
Project Sheet Harlequin Poppies Kit

Project Sheet Harlequin Poppies, 12/pack, 1 pack per store


QT Fabrics-Jungle Family Tiger Quilt Kit

Fabric for top, binding and pattern Measures 47"x48" You will need 3 yards Backing to complete this kit


Take A Stand Bag Kit Art Gallery Fabrics

Take A Stand Tote Kit includes fabric for tote must purchase hardware separately


Twinkle Quilt Kit

Fabric and Pattern to complete top and binding for Quilt Approx. 52"x68"


Winter Friends Banner

Winter Friends Banner


Anything But Boring: Creative Covers Kit

Creative Covers Creative Covers Kit


Make It With Marcus Fabrics- Primo Pumpkin Kit

Kit makes 3 pumpkins 1 of each size. Need stuffing and twigs.


Primative Gatherings- Winter-ific PRI-495

Designed by Lisa Bongean


Windham Fabrics: Ghosts & Ghouls Kit

Featuring Ghost and Ghouls Fabric Collection Book Size 17"x15.25" Envelope 7.5"x5"


Wine Bottle Burlap Bag Kit - Paris Eiffel Tower

Wine Bottle Burlap Bag Kit Each kit makes 3 wine bags.


Primitive Gatherings-Warm Winter Blessings (Snowmen)

Availability: Usually ships 3-4 business days.