Eclectic Elements- Tim Holtz-Correspondence One Quilt Kit

60"x60" quilt top and binding. you will need batting and 4 yds backing to complete


Fabric Chicks-Ambrosia Quilt Kit
Fabric Chicks-Wolf

Wolf finished project measures approx 32"x34" Snippet/collage technique with thread painting creates this beautiful finished quilt.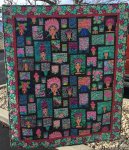 Fabric-Chicks-Ladies Quilt

Utilizing a panel and a unique flange binding, this kit goes together quickly 53"x64"


Fabric-Chicks-Ombre Gelato Kit

Ombre Gelato Kit makes both projects Giraffe Wall Hanging 19"x43" Curved piecing Table Runner 23"x43"


Fabric-Chicks-Pete the Cat Quilt

utilizing a panel and embellishments makes a quick gift. includes flannel backing 42"x48"


Fabric-Chicks: Pony Express- Nevada Block Kit

Collect your Pony Express Blocks This Pony Express18" X 18" Block Kit by Fabric-Chicks features riders crossing the state of Nevada.


Frond Design Studios-Fresh Cut Flowers Quilt Kit

This kit comes with all 6 flower panels! You can make either of the art quilts pictured here with just one kit, or you can pick and choose which flowers you want to add and do your thing! 50x58 Approx.


Frond Design Studios-In and Out Quilt Kit

A great design by Blue Underground. Finishes at 77x77. Includes a 31 count Medusa Fat Pack and pattern. Binding and Backing are NOT Included.


Frond Design Studios-Landscape Quilt Kit

Finished Quilt approx 45x66" Includes fabric for top, binding and pattern.


Frond Design Studios-The Flower Tour Kit

Finished Quilt approx 24"x24" Includes hand dyed canvas background.


Moda- Homegrown 19820 Quilt Kit

Homegrown Quilt Kit by Deb Strain for Moda KIT19820. Quilt Kit includes pattern and fabrics for quilt top & binding. Size 51" x 56". Farmhouse style is not just for the farm anymore. It is a way of life and attitude, rather than just a rural address.



Out of Stock
Primitive Winter Table Runner Kit

Kit includes fabric and pattern for 2 Table Runners using Primitive Gatherings fabrics


Quilting Treasures-Hot Rods Quilt Kit

Pieced borders surrounding this dynamic digital panel, make this a quick and easy quilt. Finished size 66"x46"


Ravenwoods-Table Runner and 4 Placemats

This Kit includes instructions/fabric for a tablerunner (18" x 54") and four place mats (12" x 18" each) You will need 2 yards backing Pattern includes instructions for a lap quilt


Timeless Treasures- Row by Row Home Sweet Home Tote Bag

Row by Row Home Sweet Home Tote Bag Designed by Linda Turner Griepentrog for Timeless Treasures.


Trick or Treat Happy Halloween

Trick or Treat - Happy Halloween Banner Quilt Kit.


Twinkle Quilt Kit

Fabric and Pattern to complete top and binding for Quilt Approx. 52"x68"


Unbridled Patch Pillow

Approx 18"x 18" you will need pillow form and fusible


Virginia Robertson Designs: Thoroughly Modern Zig-Zag Quilt Kit

48"x48" Wall Hanging Oncludes Pattern and fabric for top and binding, you will need 31/4 yds for backing.


Anything But Boring: Creative Covers Kit

Creative Covers Creative Covers Kit


Fabric Chicks-Fancy Flight Collage Quilt Kit

A fun collage quilt of a butterfly among flowers, designed by Beth Watts for The Fabric Chicks. 32" X 42"


Fabric Chicks-Max and Duke

This quilt measures 34"x52". Everything you need to complete the top and binding included in this adorable quilt, featuring characters from The Secret Life of Pets


Fabric-Chicks Enchanted Plume Quilt Kit

Finished Size: 41" X 61" Everything you need to complete top and binding.


Fabric-Chicks Row by Row Experience II 2016 Kit

2016 Row by Row Pattern. We are now accepting pre-orders for the kits. They will ship November 1


Fabric-Chicks- She Who Sews- Fabric-Chicks Style!

Finished Size approximately 49" X 72"


Lampost Wall Hanging

Finished Quilt Size is 33"x45". Includes everything to complete top and binding.


Make It With Marcus Fabrics- Primo Pumpkin Kit

Kit makes 3 pumpkins 1 of each size. Need stuffing and twigs.


Nevermore Fabric- Gypsy Sling Purse KIT

A Kit to make this item Pattern by Amy Butler Fabric by Michael Miller


Newcastle - Paper Doll Farm Quilt Kit

This quilt kit includes fabric for quilt top, quilt binding and quilt backing.


Primative Gatherings- Winter-ific PRI-495

Designed by Lisa Bongean


Quilting Treasures- To the Letter- Letter Stitch Panel Quilt Kit

Finished Quilt 38 1/2" X 55 1/2"


Wilmington Prints- Colors of Freedom Door Banner Quilt Kit

Finished Size 30" X 59"


Windham Fabrics: Ghosts & Ghouls Kit

Featuring Ghost and Ghouls Fabric Collection Book Size 17"x15.25" Envelope 7.5"x5"


Wine Bottle Burlap Bag Kit - Paris Eiffel Tower

Wine Bottle Burlap Bag Kit Each kit makes 3 wine bags.


Timeless Treasures: Mocha Kiss Tonga Treats Kit

This kit creates a 48"x54" quilt.