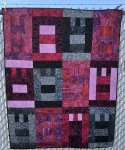 Bauhaus Quilt Kit

pattern and fabric for quilt top and biniding Finished quilt measures approx 48x60" You will need 3 yards of backing.


Catnip without the cat

54"x63" you will need backing and batting to complete kit


Costume Makers Ball Quilt Kit

Fabric for top and binding. Finished quilt measures 64"x83"


Fabric Chicks- Painted Horses Quilt Kit

Includes fabric for top and Binding. You will need 3 1/2 yds for backing.


Fabric Chicks-Landscape Elements Kit

Landscape Kits includes fabric, fusible and stabilizers to create a beautiful Emerald Bay Lake Tahoe scene.


Fabric Chicks-Wolf

Wolf finished project measures approx 32"x34" Snippet/collage technique with thread painting creates this beautiful finished quilt.


Fabric-Chicks Colorful Kittys Galore Quilt Kit

Finished quilt measures approx 55"x72" you will need backing and batting to finish


Frond Design Studios-Fresh Cut Flowers Quilt Kit

This kit comes with all 6 flower panels! You can make either of the art quilts pictured here with just one kit, or you can pick and choose which flowers you want to add and do your thing! 50x58 Approx.


Frond Design Studios-The Flower Tour Kit

Finished Quilt approx 24"x24" Includes hand dyed canvas background.


Goldilocks Quilt

pattern and fabric for top and binding 34 1/2X42"


Gone Batty Quilt Kit

Table Topper Kit 59" square includes fabric for top and binding you will need 3 7/8 yard backing


In The Beginning Fabrics- Garden of Dreams Quilt

One Fabric Kaleidoscope Quilt Kit 64"x86 1/2" you will need batting and 6 yrds backing


Jack is Back Quilt Kit

Piecing around a glow in the dark panel makes this a quick fun project. Quilt measures approx 55"x60.5" you will need 3 1/2 yds of backing


Nevermore Pillow Kit

Nevermore Pillow measures approx 16"x16" you will need a pillow form and soft fuse


Seven Panel Wonder Bundle

Seven repeats of the rainbow hose panel 100% cotton 43/44" wide


Stitch Cats wall hanging and Bonus Pillow

Kit fabric for quilt top and binding measures approx 26 1/2x47 1/2" embellishment for bonus pillow also included you will need 1 1/2 yds backing


Timeless Treasures- Row by Row Home Sweet Home Tote Bag

Row by Row Home Sweet Home Tote Bag Designed by Linda Turner Griepentrog for Timeless Treasures.


Unbridled Patch Pillow

Approx 18"x 18" you will need pillow form and fusible


Anything But Boring: Creative Covers Kit

Creative Covers Creative Covers Kit


Fabric Chicks- Gracie's Quilt

Blue Jay's Way quilt Pattern from Abbey Lane, modified by Gracie, age 11.



Out of Stock
Fabric Chicks- North American Wildlife Quilt Kit

A 10" Square friendly quilt. Finished size is 55" X 68"



Out of Stock
Fabric-Chicks Row by Row Experience II 2016 Kit

2016 Row by Row Pattern. We are now accepting pre-orders for the kits. They will ship November 1


Lampost Wall Hanging

Finished Quilt Size is 33"x45". Includes everything to complete top and binding.


Make It With Marcus Fabrics- Primo Pumpkin Kit

Kit makes 3 pumpkins 1 of each size. Need stuffing and twigs.


Newcastle - Paper Doll Farm Quilt Kit

This quilt kit includes fabric for quilt top, quilt binding and quilt backing.


Primative Gatherings- Winter-ific PRI-495

Designed by Lisa Bongean


Windham Fabrics: Ghosts & Ghouls Kit

Featuring Ghost and Ghouls Fabric Collection Book Size 17"x15.25" Envelope 7.5"x5"


Wine Bottle Burlap Bag Kit - Paris Eiffel Tower

Wine Bottle Burlap Bag Kit Each kit makes 3 wine bags.